Current Weather Outlook
Statewide weather outlook from Florida Division of Emergency Management Meteorology
Wednesday, September 19, 2018
...Scattered Showers and Thunderstorms in the Peninsula...Little to No Chance of Rain in the Panhandle...Heat and Humidity Will Make It Feel Like 100-106 Degrees...Moderate Risk of Rip Currents for Most Panhandle and Atlantic Beaches...No Named Systems in Atlantic...
Updated 8:26 A.M. EDT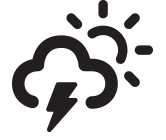 A weak cold front is stalled near North Florida this morning. While cooler temperatures are nowhere to be found, some drier air is in the vicinity. This will work to limit rain chances across the Panhandle and Big Bend today. Well south of the front, plenty of moisture remains and typical summertime showers and thunderstorms are expected. Most thunderstorms that develop this afternoon in the Peninsula will move to the south or southeast.
A few thunderstorms could become strong this afternoon. Gusty winds, frequent cloud-to-ground lightning, and locally heavy downpours are possible.
Temperatures will be unseasonably hot for mid-September. Highs will be in the lower to middle 90s. Some spots in interior North Florida may rise to the upper 90s where more sunshine and little in the way of rainfall is expected. Heat index values of 100-106 degrees are expected for much of the state.
Thunderstorms will dissipate after sunset. Only isolated showers are possible along the coasts near sunrise. Otherwise, lows will be in the middle to upper 70s, except the lower 80s in the Keys.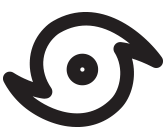 Tropical Depression Joyce dissipated overnight and the National Hurricane Center issued the last advisory. A tropical wave about halfway between the Caribbean and Africa is producing some showers and thunderstorms. This system will have a small window over the next day or so for minimal development before conditions become unfavorable this weekend. The NHC gives this system a 20% (low) chance of development over the next 48 hours and next five days. Elsewhere, a non-tropical low is forecast to form this weekend between Bermuda and the Azores. The system may acquire some subtropical characteristics. This system has a near 0% chance of development over the next 48 hours and a 20% (low) chance over the next five days. For more information on the tropics, please visit the National Hurricane Center at www.hurricanes.gov.
Onshore winds will result in a moderate risk of rip currents for parts of the East Coast and Panhandle. Today, yellow flags will be flying from Martin County to Nassau County and from Walton to Franklin County. All other Florida beaches have a low risk of rip currents. Wave heights will be 2-3' in the Atlantic and 1' in the Gulf. Remember, always swim within sight of a lifeguard. Rip currents can still occur on low risk days! For the latest rip current outlook, visit www.weather.gov/beach.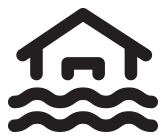 All rivers have now dropped below flood stage and no river flood warnings are in effect. However, a handful of rivers in the Peninsula remain in action stage. Rainfall amounts today will be isolated and will not cause any significant flooding concerns. For more information on specific river stages, please visit the Southeast River Forecast Center here.
Lake Okeechobee average elevation is 14.77 feet, which is 0.15 feet above normal for this time of year.