Current Weather Outlook
Statewide weather outlook from Florida Division of Emergency Management Meteorology
Saturday, January 19, 2019
...A Strong Cold Front Brings Showers and Thunderstorms to Much of the State...Isolated Strong to Severe Thunderstorms Possible in North Florida and the West Coast...Much Colder Air Begins Late Tonight and Tomorrow...River Flooding Continues On The Lower Suwannee and the Lower Santa Fe Rivers...High Rip Current Risk at Panhandle Beaches with Moderate Risk at Atlantic Beaches...Moderate Wildfire Threat for Central And South Florida...
Updated 9:15 A.M. EST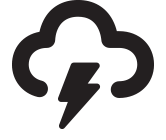 A strong cold front is approaching the state from the west, and it will move through much of the state today and tonight. Showers and thunderstorms are expected along and ahead of the front today, beginning in the western Panhandle early this afternoon and moving through North Florida into tonight. The storms will also move through the West Coast late tonight into the overnight. A few storms may become strong to severe today and tonight. The Storm Prediction Center has outlined all areas west of Tallahassee in a Slight Risk of severe weather (level 2 of 5) and all areas from Tallahassee to Jacksonville southward to Fort Myers in a Marginal Risk (level 1 of 5). The main threat with any severe thunderstorms will be damaging wind gusts and isolated tornadoes. Flooding is not expected due to the progressive nature of the storms.
Outside of the storms, it will be breezy along the coast of North Florida, and a Wind Advisory is in effect for all coastal areas from Escambia through Dixie Counties. Highs will be in the lower 70s in North Florida with middle to upper 70s in the Peninsula.
The storms continue into the Peninsula overnight tonight, bringing a chance of isolated strong to severe storms for the western part of the Peninsula. Damaging winds and isolated tornadoes will remain possible the strong to severe thunderstorms. The Panhandle will begin to dry out and cool down with breezy winds out of the northwest. Lows will be in the upper 30s to middle 40s in the Panhandle and upper 40s to middle 50s in Northeast Florida. The Peninsula, ahead of the front, will remain in the upper 50s to lower 60s in Central Florida with middle to upper 60s in South Florida.
Much colder air filters into the state Sunday into Monday. Breezy winds will make it feel colder than the actual temperatures.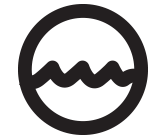 Strong onshore winds today will result in a high rip current risk at all Panhandle beaches. High Surf Advisories are in effect for Panhandle beaches as wave heights build to 5-8'. Waves of 2-4' will result in a moderate rip current risk for Atlantic beaches. A low threat is expected elsewhere. Remember, always swim within sight of a lifeguard. Rip currents can still occur on low risk days! For the latest rip current outlook, visit www.weather.gov/beach.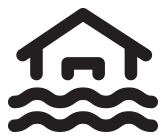 River Flood Warnings remain in effect for the lower Santa Fe and lower Suwannee Rivers. Moderate flooding is ongoing along the lower Santa Fe River at Three Rivers Estates, and this will continue through this morning before falling into minor flood stage later today. The Santa Fe at Three Rivers Estates will continue in minor flood stage through the middle of next week. The Suwannee River may fall below flood stage by this weekend with the Santa Fe at Hildreth early next week. Rainfall in North Florida is not expected to be heavy enough to produce flooding concerns. For more information on specific rivers, please visit the Southeast River Forecast Center here.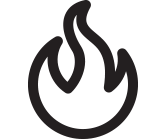 Gusty winds are expected today in North Florida, but rainfall and high humidity will keep the wildfire threat very low. Drought conditions and moderate humidity in South Florida will contribute to a moderate wildfire threat for the Peninsula today. A County Burn Ban remains in effect for Gulf County and 5 other counties that are in effect year-round.