Severe Weather
...Rain Chances Return to Most of the State Today...Rain Chances Continue Through Late Week...Moderate to High Risk for Rip Currents for Some East Coast and Panhandle Beaches...
Updated 8:50 A.M. EST Tuesday
A stalled frontal boundary along the Treasure Coast is resulting in bands of locally heavy rainfall this morning. This area of rainfall will continue to track north today. While the heaviest is likely to stay just offshore, rainfall totals may surpass 1" along immediate areas of the Treasure Coast and Space Coast today. An upper level low pressure system is moving towards the state from the Gulf of Mexico. Ahead of this system, light winds out of the south are allowing some moisture and instability to return to the state. By this afternoon, scattered showers and isolated thunderstorms will be developing statewide. Rain chances are high across much of the state today except in the western panhandle. The heaviest rainfall today will likely fall in two areas: the aforementioned East Coast and in the Apalachicola River basin. Rain chances will continue overnight for much of the same areas, just more isolated.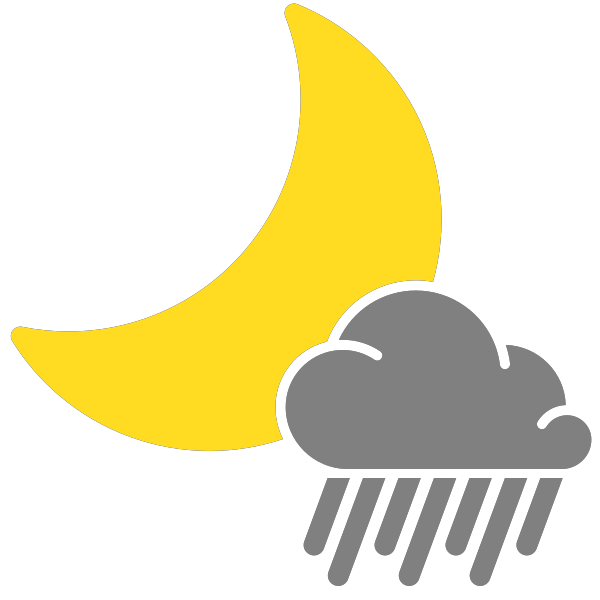 Otherwise, skies will be partly to mostly cloudy today. Temperatures will be warmer, ranging from the lower 70s in North Florida, the mid to upper 70s in Central Florida, and the low 80s in South Florida and the Keys. Skies will be mostly cloudy tonight as well which will keep temperatures mild. Lows will range from the lower 70s in South Florida, the 60s in Central Florida, and the upper 50s in North Florida. With less cloud cover in the western Panhandle, low temperatures may fall to the lower 50s. Some patchy, dense fog may develop in portions of the Big Bend, Northeast, and Central Florida near sunrise.
A high risk of rip currents is forecast for Southeast Florida beaches today. A moderate risk for rip currents is expected along Panhandle beaches from Walton to Franklin County and along Northeast Florida beaches. Wave heights will be 2' or less along Gulf Coast beaches, but higher wave heights of 3-4' still linger in the Atlantic. Beach goers are urged to check with local beach rescue for the latest surf conditions and to always swim within sight of a lifeguard. Remember, double red flags means the beach is closed.
For the first time since Hurricane Irma made landfall in early September, the St. Johns River has dropped below flood stage at all locations. With recent dry conditions, any rainfall the next few days is not expected to cause river flooding. For more information on specific river stages, please visit the Southeast River Forecast Center here.
No tropical development is expected during the next five days. For the latest information on the tropics, please visit hurricanes.gov.
National Weather Service