State Emergency Operations Center
Daily Situation Reports
Flash Reports (when available)
2014 Storm Season
2012 Storm Season
Wildfires
For the most up-to-date information on Florida's wildfires, visit www.floridaforestservice.com/wildfire/information.html.
Deepwater Horizon Response
Visit the State Emergency Deepwater Horizon Response page.
For more information on Florida's Deepwater Horizon response, as well as health and safety tips, visit www.dep.state.fl.us/deepwaterhorizon.

View the Deepwater Horizon Response
Current Situation
View Larger Map
Weather Forecast
Cold Front Will Push Through South Florida Increasing Rain Chances Across Central And South Florida Today...Sunny, Dry, And Cool Conditions Will Start To Filter Into Northwest Florida This Morning...Moderate To High Risk Of Rip Currents At Florida Beaches...Tropics Remain Quiet...
Updated 10:00 AM EST Wednesday
South Florida: A cold front will push through South Florida this morning, resulting in a chance for showers and cloud cover to remain across the area throughout the afternoon. Cooler conditions are expected behind the front, with temperatures steady or dropping throughout the day. Drier air will push southward across the region beginning this afternoon, with more significant drying forecast for tomorrow. Chilly overnight temperatures are in the forecast, with lows ranging from the upper 40s north to mid 50s south.
Central Florida: Cloudy skies and showers will continue through the morning, with skies clearing from northwest to southeast today starting in the early afternoon. A cooler air mass has already started to filter into the region, with high temperatures forecast to range from the lower 60s north to lower 70s south. Any leftover clouds this evening will clear out by midnight allowing temperatures to fall off fairly quickly. Temperatures are forecast to stay in the 40 degree range, however, some mid 30s could be seen in the Nature Coast.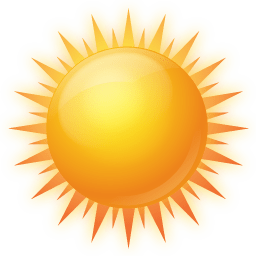 North Florida: A few showers are possible in the morning hours across Northeast Florida, before drying out by the early afternoon. In the wake of the cold front, high pressure will start to filter in across Northwest Florida and spread southeastward, brining sunny, dry, and cool conditions. In addition, winds will increase this morning across Northeast Florida, with breezy/locally windy conditions forecast, especially near the coast. Chilly temperatures are expected, with high temperatures near 60 and overnight lows ranging from the mid to upper 30s. Areas along the coast will be slightly warmer, on the other hand some areas across the interior could see temperatures near or below freezing.
There is a high risk of dangerous rip currents from Pinellas to Collier County. There is a moderate risk from Escambia to Franklin County and from Nassau to Flagler County. The remainder of the Florida beaches will have a low risk of rip currents today. Beachgoers are urged to check with local beach rescue for the latest surf conditions and not to enter the surf above your knees. Always Heed the advice of ocean rescue personnel and swim within sight of a lifeguard. For more information on rip currents click here.
No tropical activity is forecast to occur over the next 5 days. For more information on the tropics visit the National Hurricane Center Webpage at www.nhc.noaa.gov

National Weather Service
Maps