State Emergency Operations Center
Situation Reports
2016 Storm Season
2014 Storm Season
2012 Storm Season
Wildfires
For the most up-to-date information on Florida's wildfires, visit www.floridaforestservice.com/wildfire/information.html.
Deepwater Horizon Response
Visit the State Emergency Deepwater Horizon Response page.
For more information on Florida's Deepwater Horizon response, as well as health and safety tips, visit www.dep.state.fl.us/deepwaterhorizon.

View the Deepwater Horizon Response
Current Situation
View Larger Map
Weather Forecast
...Red Flag Warning, High Fire Weather Threat in the Panhandle...Sunny Skies Expected Statewide Today, Clear Skies Tonight...Moderate Risk Of Rip Currents For Nassau To Martin County Beaches...No Tropical Development Expected Over the Next Five Days...
Updated 8:40 A.M. EDT Sunday
The primary weather concern in Florida today is the fire weather threat. Low relative humidity and winds between 10 and 15 mph will make burning conditions hazardous in some areas. A Red Flag Warning is in effect for Inland Escambia, Inland Santa Rosa, Okaloosa, Walton, Holmes, Washington, and Bay counties today, indicating that any fires that develop there will likely spread rapidly. Therefore, a high fire weather threat is forecast for the Panhandle where ERC values are high and soils are dry. There is a low fire weather threat in the Big Bend.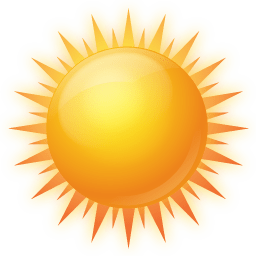 The dry cold front that moved through the state a couple of days ago has ushered in the strongest blast of cold air associated with it. Temperatures on Sunday morning are well into the low 40s in all of North Florida. High pressure will dominate and continue to bring dry conditions to all of Florida today. Expect clear skies and a brisk 5-15mph north wind. Highs today will be in the mid to upper 70s across North and Central Florida, and in the low 80s in South Florida. Lows tonight will be in the low to mid 40s in North Florida, in the upper 50s in Central Florida, and in the upper 60s in South Florida.
A moderate risk of rip currents is forecast from Nassau County to Martin County due to lingering swells. A low risk of rip currents is expected for all other beaches in Florida today. Beach goers are urged to check with local beach rescue for the latest surf conditions and to always swim within sight of a lifeguard.
No tropical cyclone activity forecast to occur over the next five days. For more information from the National Hurricane Center, click here.

National Weather Service
Maps