State Emergency Operations Center
Situation Reports
5 Day Statewide Weather Outlook
2016 Storm Season
2014 Storm Season
2012 Storm Season
Wildfires
For the most up-to-date information on Florida's wildfires, visit www.floridaforestservice.com/wildfire/information.html.
Deepwater Horizon Response
Visit the State Emergency Deepwater Horizon Response page.
For more information on Florida's Deepwater Horizon response, as well as health and safety tips, visit www.dep.state.fl.us/deepwaterhorizon.

View the Deepwater Horizon Response
Current Situation
View Larger Map
Weather Forecast
Dense Fog Advisories in North Florida This Morning...Isolated to Scattered Showers and Thunderstorms in the Panhandle and Big Bend...Marginal Risk of Severe Weather in Parts of the Panhandle This Afternoon...Partly Cloudy Skies Expected in Central and South Today...Moderate Risk Of Rip Currents For All Panhandle Beaches...
Updated 9:25 A.M. EST Thursday
Dense Fog Advisories are in effect this morning for all North Florida counties, with visibilities less than 1/4 mile in some places, and patchy fog is also possible this morning in parts of Central and Southwest Florida. Any fog should dissipate by mid to late morning.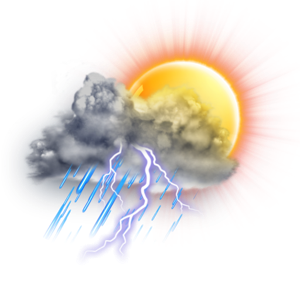 A cold front is moving through the south central U.S. this morning. As the front approaches Florida, isolated to scattered showers and thunderstorms are possible in the Panhandle today, with the highest chances in the western Panhandle. In addition, there is a marginal risk of severe weather in the western and central Panhandle as strong to severe thunderstorms with damaging winds and frequent lightning are possible this afternoon and evening, and an isolated tornado cannot be ruled out. Some thunderstorms may contain heavy rainfall, leading to a possibility of local minor flooding of low-lying areas in some parts of the western Panhandle. While the severe threat is expected to diminish this evening, chances for scattered showers and thunderstorms continue in the Panhandle overnight and will increase in the Big Bend beginning this evening. Central and South Florida can expect partly cloudy skies and no rainfall through tomorrow morning. Highs today will be in the mid to upper 70s in North Florida and near 80 in the Peninsula. Overnight lows will be in the upper 50s to lower 60s in the northern Peninsula and in the mid 60s elsewhere in Florida.
There is no fire weather threat in Florida today with relative humidity well above critical levels throughout the state. Glades and Hendry counties currently have burn bans in place.
A moderate risk of rip currents is forecast for all Panhandle beaches due to near onshore winds between 10 and 15 mph and wave heights of 2 to 3 feet. A low risk of rip currents is expected at all other Florida beaches today. Beach goers are urged to check with local beach rescue for the latest surf conditions and to always swim within sight of a lifeguard.

National Weather Service
Maps